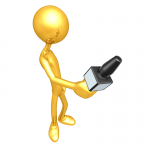 Interview and Book Review published in Ocean City Today – August 7th  issue:
Interview/Review- Ocean City Today Aug 7th
I shared why I wrote the new book- to help entrepreneurs create successful companies, moving beyond basic "start your own your business" guidelines to reach the critical five year survival milestone.
I also shared some key points, such as why clearly defining your business model and strategy up-front, is critical, and discussed what readers are saying.
I emphasized that statistics show entrepreneurs are a major force to spur job creation, and economic growth. New policies/programs to directly help entrepreneurs; proposed new university programs to more tightly link to the business community and leverage university assets and IP; and national entrepreneurship initiatives are my vision that I shared during the interview
I will be expanding on these points in upcoming interviews  and presentations. Stay tuned…comments always welcomed.
Paul B. Silverman writes about entrepreneurship, healthcare, analytics, and strategy management and serves as Advisor, Speaker, Educator, and Managing Partner of the Gemini Business Group, LLC, a new venture development firm, and author of "8 Building Blocks To Launch, Manage, And Grow A Successful Business." He also serves as Adjunct Professor in the School of Business at George Mason University. See more at Paul B. Silverman Blog and sign up for Entrepreneurship Today! email updates to track latest new venture developments.