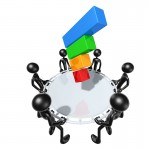 Excellent article in Forbes on big data, analytics, and business intelligence. You can see my comments (top comments section)  and the Forbes article at http://www.forbes.com/sites/louiscolumbus/2015/05/25/roundup-of-analytics-big-data-business-intelligence-forecasts-and-market-estimates-2015/
One of the best roundup articles showing forecasts and outlook in these explosive growth markets. All businesses and providers must recognize the challenges that must be met and how all must adapt to secure real value from these trends.
Summary:
Summary of my recommendations in posted comments here – view big data/analytics/IOT as 'technology enablers', enabling you to improve and streamline business processes. The winning strategy- get past what I call the 'gee-whiz' factor, recognize IOT, analytics, and other technologies are a "means to the end," driving new business processes to reduce costs, increase revenue, and improve strategic position.
Forbes article is highly recommended reading for all interested in big data, analytics, and IOT.
Paul B. Silverman writes about entrepreneurship, healthcare, analytics, and strategy management and serves as Advisor, Speaker, Educator, and Managing Partner of the Gemini Business Group, LLC, a new venture development firm, and author of "8 Building Blocks To Launch, Manage, And Grow A Successful Business." He also serves as Adjunct Professor in the School of Business at George Mason University. See more at Paul B. Silverman Blog and sign up for Entrepreneurship Today! email updates to track latest new venture developments.