What Others are Saying | Read Excerpts
Worm on a Chopstick: Understanding Today's Entrepreneurial Age: Directions, Strategies, Management Perspectives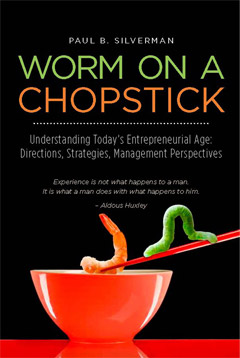 How Do You Answer Three Questions Successful Entrepreneurial Company Managers Must

Always

Answer: What Business Are You

Really

In, Who is Your Competition, What is Your Growth Strategy?
Looks like three simple questions. But most entrepreneurial emerging firms struggle to answer these and fail. Not convinced? Just look at the numbers- about 50 % of all start-ups fail within the first year and 60 % fail or show no growth in 5 years. Very sobering statistics and often the result of companies not answering these three questions.
So how do you answer these questions? Easier for large established companies who have more resources to attract and hire experienced management staff. Much tougher for managers of early stage companies focusing on today's business, using cash to meet current bills, paying minimal attention to longer term strategic issues, often not really knowing how to answer the three questions.
These questions are deceptive and really tough to answer for most early stage companies. Why? Well, today's explosive entrepreneurial age is changing the business landscape: creating new markets (mobile apps, online video, eBooks); destroying traditional business (bookstores, record stores, newspapers); changing how we develop, manage and grow companies. Disruptive technology innovation is driving new directions, new challenges, new rules in all market sectors. And like an unexpected critter on a chopstick, today's tsunami-like market and technology changes often occur when you are least prepared.
So to avoid being a failure statistic, entrepreneurial company managers must adapt, develop new perspectives, learn new management techniques, really think and act like management of larger corporations. Saying this another way, management skills needed to start a new venture are dramatically different from the skills needed to manage and grow a successful business.
Sounds simple,  but that means managers must change- moving from start-up to high growth management mode means developing new perspectives, addressing new issues, using new management tools, asking new questions, solving new problems. Tough for many entrepreneurs to accept but that is a fact.
Helping entrepreneurial company managers succeed is the mission of a new highly praised book, Worm on a Chopstick: Understanding Today's Entrepreneurial Age: Directions, Strategies, Management Perspectives. Driven by real world experiences, "Chopstick" provides perspectives, strategies and tools helping today's entrepreneurial firm managers succeed.
=================================================================
"There are many management books on the market but few are presented in such a readable and understandable, manner as this one. Truly a most enjoyable and worthwhile read! "
– Chuck Nash, Founder and CEO Emerging Technology Inc. (ETII); retired U.S. Navy Captain and Fox News military analyst
=================================================================
Written in an entertaining, anecdotal, highly readable and snappy style, and drawing on Harvard Business School and other case studies, Chopstick delivers powerful, substantive messages. Chapter titles such as Chapter 3 Innovation Lessons I: New Product Development, Thinking "Outside of the Room"- Archimedes and the Bathtub – 'Eureka!' Moments; Ch. 10 Competition: Knowing When to Circle the Wagons and Which Wagons to Circle; Ch. 12 Entrepreneurial "People" Management: Theory X and Theory Y- Schools of Management, Not Algebra; Ch. 14 Metaphors and Models: Strawmen Do More Than Chase the Birds Away and Walk With Tin Men and Lions, emphasize Chopstick's highly readable style.
=================================================================
"Worm on a Chopstick….could easily be retitled Man on A Mission because that is what Paul Silverman has been for 30+ years….he shares his thoughts and insights on the entrepreneurial process from every vantage point…a must read for leaders of rapid growth technology companies."
–Andrew J. Sherman, Partner, Jones Day and author of Harvesting Intangible Assets
=================================================================
What you will learn after reading Chopstick:
●Discover the Difference Between Ideas and Opportunities and Why You Don't Invest Before it's an Opportunity
Before you spend money to create expensive bound business plans, borrow from family members or secure a second trust on your home, you need to evaluate if what you are looking at is just a new business idea or an opportunity that supports a sustainable business.
The "Three Legged Stool Analysis Model" shows how the potential of new ventures can be quickly evaluated before proceeding further, saving both time and money. And this applies for all new products and services. Suppose you develop a new programmable air freshener device for cars. Or suppose you work in the kitchen and get an idea for a new device to more efficiently broil chickens.
Obviously the chicken broiler and auto markets are different—moving roasted chickens on a spit, at first glance, has little in common with air fresheners in vehicles moving people on streets. But as shown in Chopstick, the initial questions here and challenges in understanding potential are surprisingly similar. And we answer these questions before spending money, creating an expensive bound business plan, borrowing from family members or securing a second trust on your home to pursue an idea disguised as an opportunity.
=================================================================
"A great read for every technology guru contemplating the next big idea…Worm on a Chopstick provides the business principles every young entrepreneur needs, but sometimes overlooks."
–Liz Sara, High tech marketing consultant, entrepreneur, angel investor.
=================================================================
● Define What Business You Are Really In Before Launch To Save Time and Money
Your business mission, objectives and strategies define your company. Targeting consumers with a low end, mass- marketed product drives a specific company structure, management team and operational plans to maximize revenues and profits. Compare that to a high end service company targeting companies and you see a very different company model to meet revenue and profit objectives.
In business schools, we look at leading companies to examine these corporate structures and, using proven management tools and techniques, define both a company's business and best practices to meet challenges and opportunities with precision. Many entrepreneurs, however, move quickly from a product or service "idea" to business plan, launch the business, maybe secure some sales, maybe even create significant revenues, and then encounter a wide range of problems ranging from new competition, market shifts, and reduced profits impacting cash flow and driving the need for new financing to keep going. Unfortunately this is a business track we see often for high potential entrepreneurial firms.
To avoid this problem, you need to first define your business before you launch the company. Experience shows the business will change as you proceed- guaranteed- it always does, but start out correctly and you can dramatically improve your chance of success.
Using the example of a hypothetical new product, the Jupiter 2.0, a device that links the Internet to a TV to view movies, the discussion with the management team starts out as follows: "What is your business focus here? Exactly what is Jupiter selling—hardware, software, content via resale, licensing technology, or are you offering a bundled service?" was the initial question directed to the CEO.
The discussion continues, reviewing marketing and pricing strategies and discussing strategy options and tradeoffs. As the discussion proceeds and we define a recommended strategy, we learn two powerful lessons. First, what a founding management team thinks is the opportunity may not be, but may help identify other opportunities providing the basis for a high potential business.
Second, the discussion process, examining all business options, is just as important as the final recommendation developed. Chopstick echoes the philosophy of General and former President Dwight D. Eisenhower when preparing for D-Day. Obviously an amazing planning effort—thousands of soldiers and armament, multiple countries and cultures, a sea to cross, weather uncertainties, where to land, and the need to examine hundreds of "what-ifs." When the final plan was drawn up, General Eisenhower remarked, "The plan is nothing; the planning process is everything." And the same goes for entrepreneurial companies.
=================================================================
"Sometimes a dynamic book comes along that makes you think in new directions, create new ideas, develop new perspectives. Worm on a Chopstick by Paul Silverman accomplishes this and so much more. He brings a highly experienced voice to today's entrepreneurial age discussions and lets us know where we are heading.  A powerful book that could change your life."
–Rita Cosby, Award Winning TV Host and Bestselling Author of "Quiet Hero: Secrets from My Father's Past"
=================================================================
● Why You Need Business Plans Addressing Today's Entrepreneurial Age Challenges
Challenging the traditional rules of business, "thinking out of the room," you will see how entrepreneurial thinking drives company mission statements, objectives and business plans. Looking at Google vs. General Motors, we see how entrepreneurial thinking shapes each company's mission statement and share ideas on how General Motors could have pursued other strategies but did not.  Sharing a recommended presentation that should have been made to General Motors in the early 1990's, Chopstick shows how larger firms facing market, competition and technology challenges must change their current course to survive and thrive. And this takes courage and creates problems.
Chopstick uses many examples of companies that missed the mark, did not see the changes coming in their business. Remember WANG and DEC, major players in the minicomputer market? These major players and others missed the shift to the desktop PC market and disappeared.
Looking further back we see NCR, the grandfather of the cash register (NCR's original name was National Cash Register started in the 1880's). Cash registers were mechanical devices- a clever combination of gears, levers and draws that open and close. In 1967, computers were coming and the question was how NCR should respond. They needed to protect their business, add features customers want, meet customer needs, enhance their current products. But computers were coming. NCR pursued a "stick the knitting" approach concluding computers would enhance their current business. NCR missed the mark – computers represented a brand new cash register market and completely displaced NCR's mechanical cash register business.
Other major players (think Kodak and the digital photo market here among others) have also did not understood how to successfully respond and capitalize on disruptive innovation, an important subject covered in 3 chapters within Chopstick.
For entrepreneurial firms, we learn that traditional strategy and business plans are really not complete, though they may look like they are- Chopstick defines these as "Not-So-Strategic Plans". What's often missing is the need to address several strategic issues including innovation and competitive positioning. Many new venture plans, for example have language like this to define and defend future revenue projections:
Our market analysis shows a potential market of 1,000,000 users who, based on focus groups, will pay $10 for our product. We have two competitors who offer fewer features, and we conservatively estimate we can capture 2 percent of the market increasing to 5 percent by year 3. Year 1 revenues are projected at $200,000 (2 percent x 1,000,000 users x $10 per product sale) increasing to $500,000 by year 2.
Using traditional management tools and techniques, entrepreneurial company managers can reshape "Not-So-Strategic Plans" to create defensible strategy and business plans.
=================================================================
"Worm on a Chopstick provides a solid juxtaposition of theory and practice–tempered by experience. Very readable; and a learning opportunity"
–Michael W. Wynne, Investor, 21st Secretary of the Air Force, Former Undersecretary Acq Tech and Logistics
=================================================================
● Develop Winning Business Strategies Using Proven Strategy Management Tools to Understand Competition
Understanding competition is critical and managers of entrepreneurial firms must understand how to use strategy management tools and techniques to assess competition and develop winning strategies. Today's entrepreneurial age tsunami is reshaping all markets; disruptive technologies are changing all sectors- impacting some (books, boxed software sales) and creating new ones (mobile apps, 'cloud- based' services, on-line schools).
You need to understand your company's market environment. Is this a growing market? Is there "intense" competition that will drive down profits? What is the threat of new entrants? What is the threat of substitute products?  You will learn how the Five Forces Model, a proven management analysis tool developed by a Harvard Business School professor more than 25 years ago helps answer these questions.
And after getting answers to the above questions, you need to review your company's strengths and weaknesses, how you will respond to both identified threats and opportunities. You will learn how a SWOT (Strength, Weaknesses, Opportunities, Threats) analysis, a well-proven strategy management helps answer these questions.
Enhancing a tradition entrepreneurial business plan with answers to the above questions sends a clear signal to investors and others that you understand your business and, if properly positioned represents a defensible, sustainable business opportunity.
=================================================================
"Worm on a Chopstick provides a lifetime of business experience from the perspective of a consultant, entrepreneur and educator. It is a must-have reference for anyone in business, whether starting, running or growing a business, and those contemplating a business career. It presents in an easily readable way valuable lessons from many cases of successes and failures and will leave those who read it a basis for emulating the success stories and avoiding the costly errors of the failures. It is a recognition of the immutable foundation principles of business that must adapt to the dynamic political, economic and social forces of change in which we live now and that will apply with equal force to the succeeding generations of businessmen and women."
–Ernest M. Stern, Shareholder in the corporate and securities practice group at Akerman Senterfitt LLP, a full service law firm with offices throughout the United States and the largest law firm in the State of Florida.
=================================================================
● Develop New Business by 'Going Global'
In"The Seductiveness of Global Business", Chopstick addresses the challenges and opportunities of going global, often of great interest to entrepreneurial companies. Chopstick's emphasis is not on the procedural issues here – which forms to fill out, which trade group to contact. No- Chopstick's focus in on the strategic issues, how they are addressed and how they impact a company's core business. Critical issues that must be addressed- unfortunately overlooked by many entrepreneurial firms attracted by the seductiveness of global business.
To help understand the issues here, Chopstick reviews strategy options traditional firms use to "go global", discusses the myth of buying American products which readers have enjoyed and shares the story of Fred's Furniture, a Virginia-based manufacturer of high-end, custom-crafted hardwood tables and how Fred explores and enters the global marketplace.
This fictitious company model (intentionally a low tech company to emphasize all companies benefit from well thought out strategies) was developed by the author for global business students, and it effectively illustrates global business issues, strategies, opportunities, and "going global" impacts a company's core business. Here is a sample:
Fred Fudder makes tables. Great tables. Handcrafted, all wood, real fine furniture, Fred has been making his crafted tables for twenty years now, done reasonably well creating a lifestyle business, but changes are coming and Fred is concerned.
Let's look closer here at Fred's business. Fred's tables are simple. Four turned wooden legs. An "Americana" historical logo is wood burned onto the base of each leg—a unique branding idea conceived by Fred about ten years ago that helped build product awareness, Fred's brand, and sales.
The four legs are attached to a round solid wood tabletop offered in one size—thirty-six inches diameter. A simple product line and business model here—just a few parts, one table model, and Fred has created a profitable business.
Now let's look at the numbers here. Tables sell for $60 to retailers. They sell the tables retail for $100. Fred gets the four legs premanufactured and prefinished. He adds a lacquer finish and burns in the logo. Total labor and materials cost Fred $30 per table. Summarizing, Fred sells the table to retailers for $60, material and labor costs $30, so Fred makes $30 gross profit on each table he sells.
From that starting point, we review Fred's cost and profit outlook and competition. "Going global" seems like a good strategy to expand markets, lower material costs, increase profit. We follow Fred as he establishes overseas resellers, establishes "light" assembly operations in several targeted countries, and how he responds to demands for customized versions of his table to meet local market needs. Very powerful lessons here for entrepreneurial company managers who are considering "going global."
=================================================================
"Worm on a Chopstick elegantly combines a highly readable mixture of business "war stories" with relevant management theory.  A very useful guidebook for entrepreneurs and recent business school graduates."
–Jay Wright, Co-author of "Finance and Accounting for Nonfinancial Managers, 6th edition"
=================================================================
Chopstick's title relates to the author's experiences at a senior level meeting in a dimly lit Tokyo restaurant many years ago. Confronted with a "what do you do now" situation where the ability to define the animal/food boundary was a real challenge, this vignette provides insight into global business challenges, unpredictability, how to handle global social and cultural issues and survive, and some creative uses for Chivas Regal.
About the Author
Paul B. Silverman's vision is driven by more than four decades senior global corporate management experience, management consulting working with leading global firms, and serving as CEO/founder of both public and private companies.
The author has held senior management positions with RCA, GTE, Xerox and IBM (SBS). He has also served in senior global management consulting positions with Coopers & Lybrand, Booz Allen and Hamilton, and James Martin Strategy, an Amsterdam-based management consulting firm, where he served as CEO for North America. He currently serves as Managing Partner at the Gemini Business Group, LLC, a global new venture development consultancy firm.
Mr. Silverman has also contributed to the education sector since 2002, currently serving as Adjunct Professor in the R.H. Smith School of Business at the University of Maryland, and formerly in the School of Management at George Mason University and the Kogod School of Business at American University, and has taught undergraduate and MBA courses in entrepreneurship, strategy management, international, and other business courses since 2002.
The Worm on a Chopstick series draws upon the author's global experience to help entrepreneurs understand how to develop, launch, manage, and successfully grow new ventures.
The author's first book, "Worm on a Chopstick: Understanding Today's Entrepreneurial Age: Directions, Strategies, Management Perspectives," addressed entrepreneurial management issues and where we are heading, and received positive reviews (see Book Reviews). In 2011, Directors & Boards magazine selected the book as one of eight books suggested as recommended reading for company officers and directors (see Book Reviews). You can read excerpts of the book at (Book Excerpts- Worm On A Chopstick).
The second book in the series, 8 Building Blocks To Launch, Manage, and Grow A Successful Business, addresses what the author defines as Entrepreneurial Management 2.0, a portfolio of management tools and perspectives structured within eight Building Blocks. The new book meets the requests from many readers and colleagues to develop a more prescriptive "how-to" book for entrepreneurs, providing tips, tools, and insights based on the author's experiences. The author's commitment is to offer both entrepreneurs and would-be entrepreneurs strategies and insights that will make a difference, help them succeed, and increase the number of Survivor entrepreneurs.
The author has conducted hundreds of presentations worldwide and published numerous articles addressing strategy, policy, entrepreneurship, and new business development issues. The author holds a BS in Physics from CCNY and an MS in Management from Polytechnic University of NY, and resides in the Washington, D.C. area.
A portion of the proceeds from all book sales is being donated to the American Cancer Society.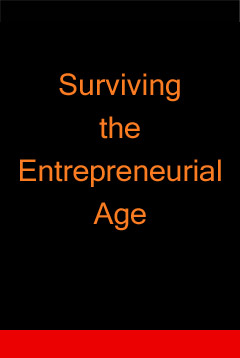 Surviving the Entrepreneurial Age
Third book in the Worm On A Chopstick series will review 10 disruptive technology trends, enhance the Entrepreneurial Management 2.0 skills portfolio, and include interviews with selected leading entrepreneurs.
Release Date: August 2020